Find your ideal driving test centre and pass driving test

on your first go! 🚗
Tell us just a few things - like where you want to take the test, your age, and your preferred car - and we'll handle the rest, matching you with the best possible driving test centre.
Start by entering your postcode 👇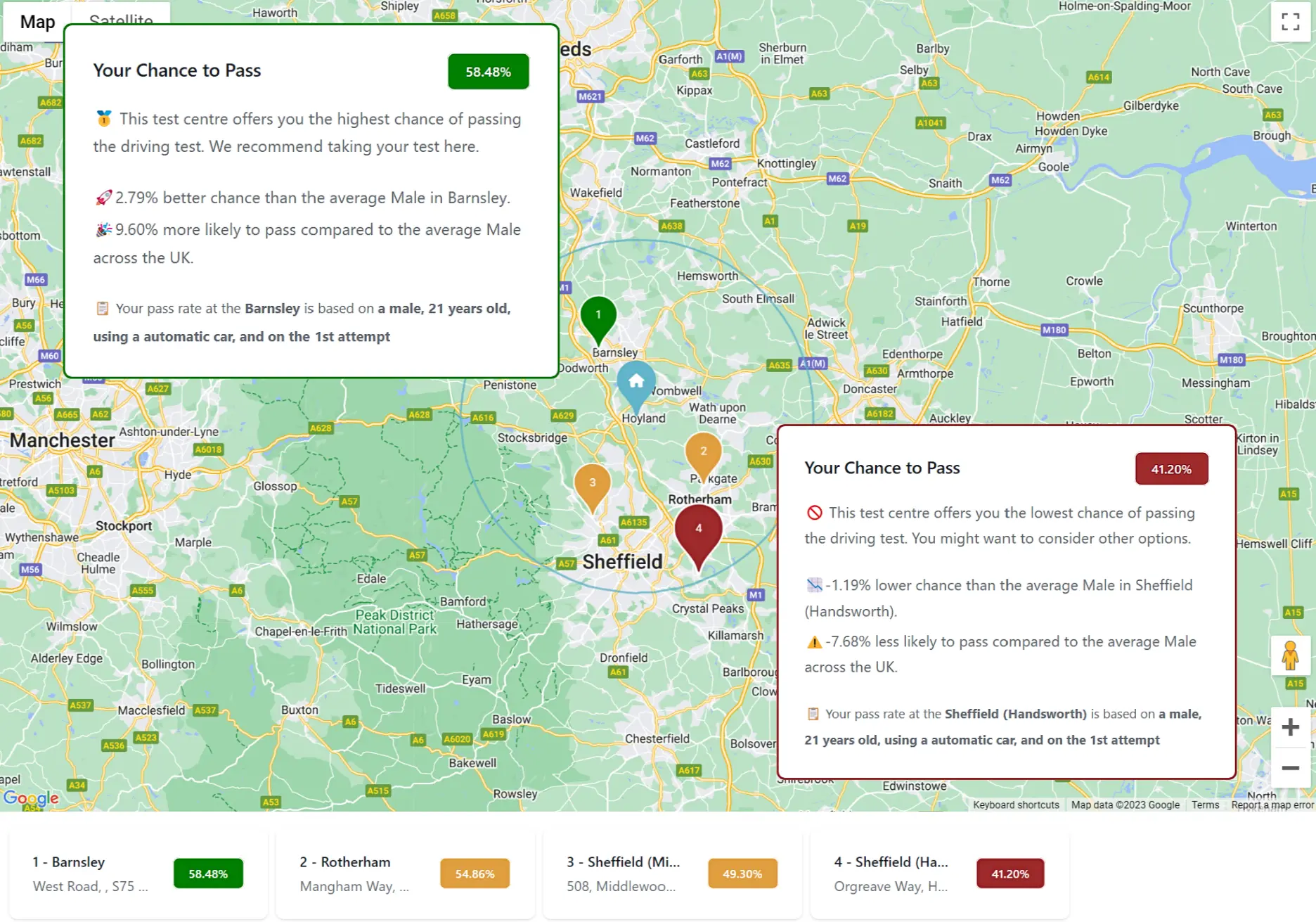 Testimonials
We have worked with hundreds of amazing people
Don't forget to share your experiences with us. Send us an email detailing your experience or providing feedback. We're always eager to hear from you.
As a token of our appreciation, if you share your experience or feedback, we'll offer you or one of your friends a complimentary second month for free.
Pass driving test faster
Increase chance of passing your driving test
In the UK, driving test centre pass rates vary widely, ranging from 20% to 80%. By carefully selecting the right test centre, you can significantly boost your chances of passing. Factors such as your age, gender, car type, and attempt count can also greatly impact your pass rate.
Use our easy filters to find the centre that ticks all your boxes. We'll help you zoom right into your perfect test centre.
Postcode.

Start by entering your postcode to find test centres in your area.

Radius.

Adjust the distance you are willing to travel to take your test.

Details.

Share your age, gender, and car preference. We will match you with centres that work for you.

Attempt Count.

Whether it is your first time or not, we have centres to match your experience level.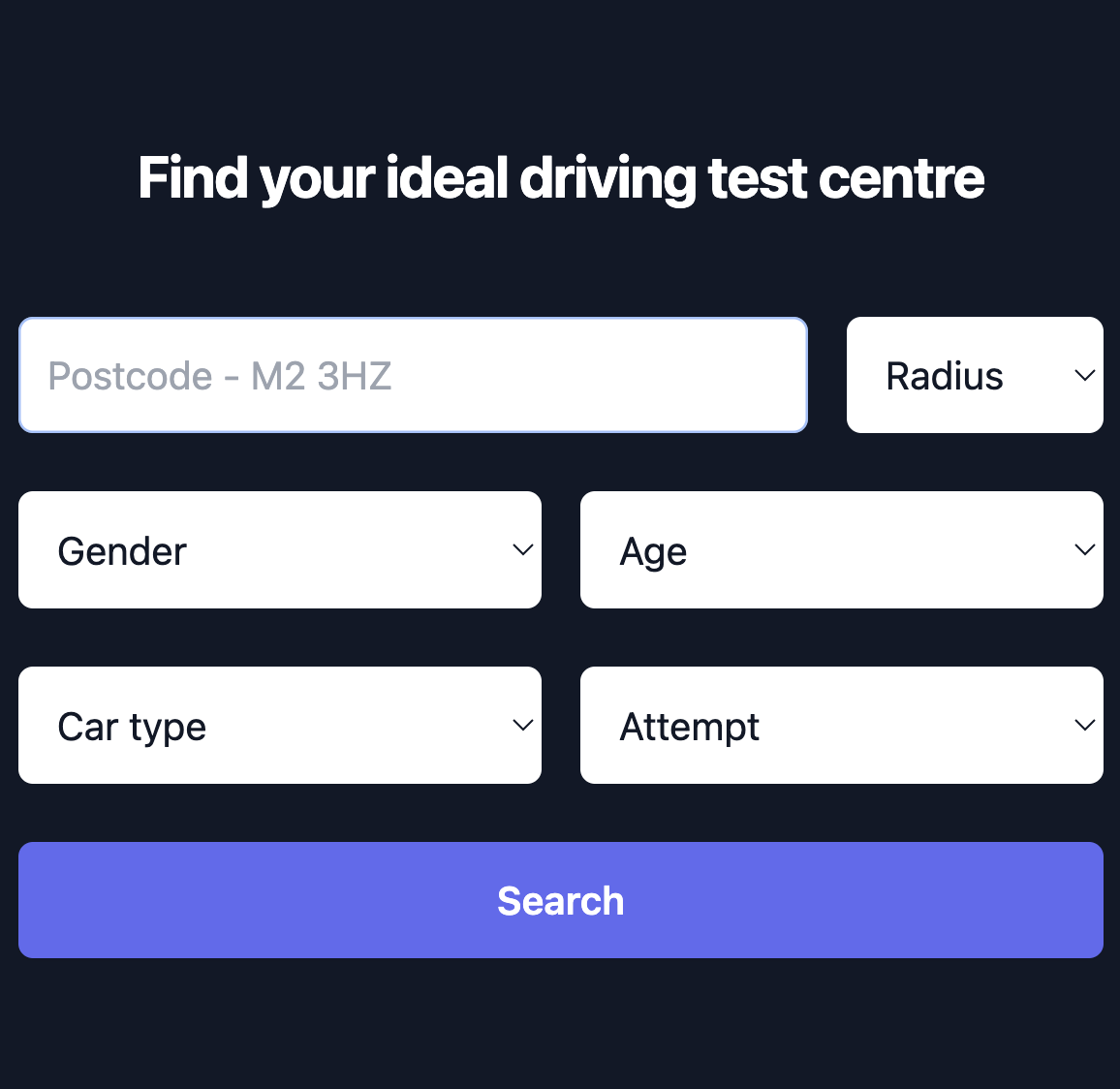 Pricing
Maximise Your Savings, Optimise Your Success
Taking the driving test isn't just a test of skills, it's also a financial commitment.
A driving test will cost you £62 on weekdays (£75 on weekends), and with 10 lessons averaging at £300.
Find the best driving test centre for you and avoid double the expense.
Pass your driving test with ease
Get a personalized assessment of your pass probability for just £14.99 and avoid the added costs of retaking the test and extra lessons.
What's included
Search options based on your location, age, gender, and car type
Personalised estimates of your success rate for all test centres
Unlimited searches to help you find the best match
Detailed information on all UK test centres (Excluding Northern Ireland)
Simple no-tricks pricing
£14.99/ One Month Access
Get access
No recurring charges. Renew only when you want.
Please note that we don't display driving test centres from Northern Ireland.
Frequently asked questions
Have a different question and can't find the answer you're looking for? Reach out us by sending an email. We'll get back to you as soon as we can.
How does the service work?

Our platform helps you find your ideal driving test centre by taking into account your unique needs. You simply input your postcode, desired radius, age, gender, car type (automatic or manual), and whether this is your first attempt or a retake. Based on this information, we'll recommend the centre where you're most likely to pass your driving test.

Can I modify my preferences or search settings at any point?

Absolutely! Our platform is designed to be flexible and adaptable to your changing needs. Whether you switch from learning in a manual car to an automatic, or you wish to broaden or narrow your search radius, you can update these preferences at any time. This ensures that you always find a driving test centre that matches your current requirements and circumstances.

How much does it cost to use the service?

The service is available for a one-time payment of £14.99 for a month's access. With this purchase, you'll have unlimited access to our platform and all its features for a month. No recurring charges. Renew only when you want.

Is there a commitment period for the one-month access or can I choose not to renew?

There's no commitment period for our service. Once your one-month access expires, it's up to you to decide if you want to renew. There are no automatic renewals.